Military Family Resources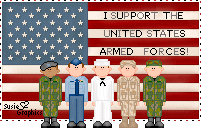 Westwood Middle School recognizes the contributions of both students and families connected to our nation's military. The staff and administration understand that military connected children experience unique circumstances. That is why the school is committed to helping these students. The links below provide valuable information for military families.
Our school recognizes and supports our military members and their families through the following activities:
Military Child Education Coalition (MCEC) March2Success

Military Interstate Children's Compact Commission National Military Family Association

Military One Source Real Warriors

American Red Cross Military Impacted Schools Association

Veterans Crisis Line Free Tutor
Please see the following information about registration and orientation.
Dress Code and Cell Phone Policy

MCS New Student Registration
Manchester, TN Chamber of Commerce Directory (Local Businesses and Services)

Military Interstate Children's Compact Commission - MIC3.pdf

Military Interstate Children's Compact Commission Rules and Regulations - MIC3 rules and Regs.pdf

Special Education Procedural Safeguards - Procedural Safeguards TN.pdf